Tuesday, October 29, 2019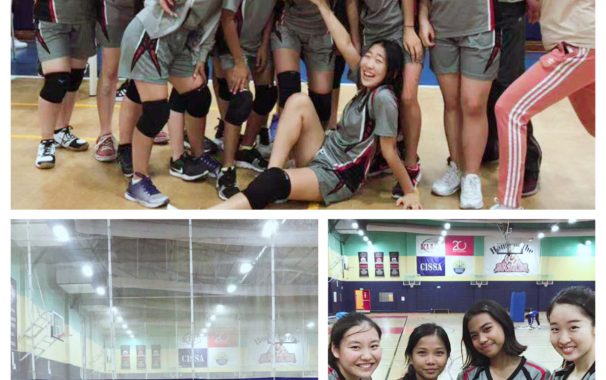 The SLAS Girls Volleyball team had won against the YCIS girls team. The scores were 25-18 on the first period and 25-15 on the second period. The girls had some confusion on their positions, but played amazingly when it comes to serving the ball and getting it over the net. Improvements are to be put on calling the ball. Overall, the girls did an amazing job today. -Capt Mikaela Cordero
At the beginning of the first set we started to feel the pressure and lose points easily. Later on we started to communicate with each other properly and serve well which led us to win a first set 25-18. The second set was worse because we stopped communicating and serving well…The third set started badly but we managed to get back due to courage of the players and opponents mistakes because of our pressure. [We had a great game] thanks to hard work on practice and communication that mostly everyone mastered. -Capt Dusan Marinkovic
Volleyball Girls Take League Championship! 
Saturday, October 12, was the final day of the volleyball season, and the girls' volleyball team found themselves looking to win the plate after a not-so-great finish in the tournament last year. The girls had looks of determination in their eyes as  they entered SCIS and started warming up for their first game of the day.  After winning 2-0 against BISN the team was fired up. Nerves started kicking  in as we watched the game to see who we would be up against next. Those  nerves showed in the first set against SCIS Pudong but they still came out on  top 26-24. They got their nerves under control for the second set winning  25-16.  The entire team was overwhelmed with the fact that we would be  moving on to the championship game. For the championship game the Wildcats  were up against the SMIC Sharks. The Sharks put up a great fight, but the  Wildcats fought hard and won the championship in the third game with a final  score of 15-13. The girls put in a lot of hard work this season and really  pulled together as a team. That certainly showed on Saturday. The girls never gave up and persevered throughout the day. I am so very proud of these girls  and what they have done this season.
I am so proud of our Ladycats and how much they have improved over this season. It is inspiring to see how supportive and resilient our team is and I look forward to seeing their growth!
Coach Kelli Lair
Shanghai Livingston American School
580 Ganxi Road, Changning District, Shanghai, China 200335
+86 (21) 5218-8575
+86 (21) 5218-0390