School Uniform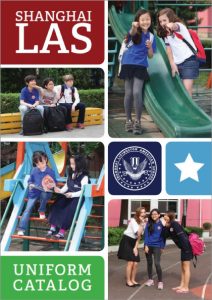 A school uniform is valuable in contributing to the ethos of Shanghai Livingston American School as well as setting the tone for the school dress code. School uniforms instill a sense of camaraderie and belonging among students, and as a result, reinforces positive behavior Furthermore, school uniforms encourage and instill esprit de corps, which further unite and identify SLAS students as wildcats!
It is the responsibility of parents to ensure that their student arrives to school in conformance with SLAS uniform policy. All students are to wear clothes that are freshly laundered and presentable, and in a good state of repair.
We strongly suggest that all articles of clothing have the student's name written on the inside of the shirt, so that they may be returned if lost.
Students should be in full school uniform at all times during school day, including breaks and lunchtime.
Download the PDF:
SLAS Uniform Catalog
Shanghai Livingston American School dress code:
SLAS White or Blue polo must be worn at all times unless otherwise informed by the school.
Shirts, sweaters, and any other apparel not containing the school logo may not be worn in a way that covers the school polo.
Students must wear black or blue bottoms.

This includes pants, shorts, skirts, or dresses.
Blue jeans may be worn as long as they do not contain holes, are ripped, or have other logos (prints).
Printable Guidelines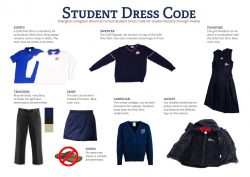 A new simplified version of our uniform catalogue has been created to guide student and parents on choosing the right pieces to wear.
Download the Dress Code Handout
Download our Uniform Catalog