Friday, September 30, 2016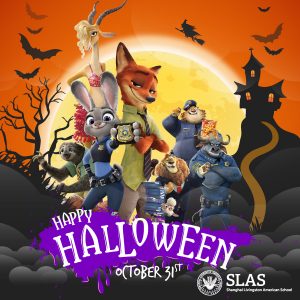 Dear SLAS parents,
It is hard to believe that Halloween is almost here and that the weather has begun to change.  Soon the leaves will change colors and fall will truly be here.  At SLAS, we are hosting our annual Halloween celebration with the three Early Year divisions and students in grades K to grade 5 on October 31st.  Our middle and high school students will be assisting to run Halloween festival games, pass out candy, and host the haunted house.
This year, we will start our Halloween festival with a parade around the track and announcements of winners for costumes.  Following the costume parade, we will divide the students into two groups.  Group one will have games on the soccer field then go Trick o' Treat with their class on the first and second floor when they are finished.  Students in Group two will begin Trick or Treating with their class on the first and second floor, joining the games after they are finished.  Teachers will have a map of the route to follow for Trick o' Treating activities.  A picture of a ghost will be placed above the door of the classes providing treats.  After students finish both activities, they will join other students for a picnic on the soccer field.  Students who order lunch from school will be provided a box lunch, those who do not may bring a box lunch or purchase the school lunch for that day. Pre-order box lunch forms will go out on October 12th.  Secondary students will eat in the cafeteria.
Students will need help playing the games and travelling to the different classes for candy.
Students should arrive to school in their costumes
The picnic will begin at 11:45 AM.
In the event that it rains or there is bad weather, we will cancel the parade but hold the games under covered shelter and the picnic in the classrooms.  We encourage parents to attend to make sure that ALL students have the most enjoyable experience possible.
Warm Regards,
Faustina Martinez, Principal SLAS
Shanghai Livingston American School
580 Ganxi Road, Changning District, Shanghai, China 200335
+86 (21) 5218-8575
+86 (21) 5218-0390