Winter Concerts at SLAS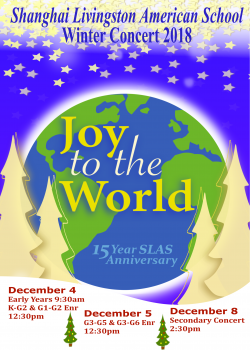 2018-2019 School Year is almost half way done! Christmas is right around the corner and to help our SLAS Wildcat Community get into the Holiday mood, our Winter Concerts will begin on December 4th!
We hope everyone is looking forward to our Winter Concert performances! All our Wildcats will be waiting to catch their family and friends in the audience so don't be late!
Winter Concerts EY & K-G2

 December 4th 9:30AM & 12:30PM

Winter Concerts G3-G5 & G6 Enriched

December 5th 12:30PM

Winter Concerts Secondary

December 8th 2:30PM *reminder that this will also be a makeup day all students are expected to be on campus!

25+ Nationalities
More than twenty-five different nationalities of students study at Livingston American School.

15 Years in China
SLAS celebrates over a decade of providing outstanding education in Shanghai.

Extensive Library
35,000 new books have been added to our refurbished 6th floor library.

We offer a bus service to all students living in Shanghai. Pick-up and drop-off included.Schedule and Fees →
Testimonials
The best part of SLAS was the fact that the school encouraged me to broaden my boundary of learning through various elective courses... I was able to see my own potential at SLAS, and most importantly, school was actually fun.— Hyen-Ju Jeon
Here at SLAS, we not only nurture the mind, body and spirit; we also equip our students with the necessary tools they need to become leaders in our culturally diverse and changing world.— Natalie Cheng