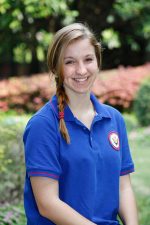 Graduating senior, Jenna Serstad, has been accepted to Calvin College in Grand Rapids, Michigan. Due to her academic excellence, Calvin College has awarded Jenna with the Honors Scholarship, Mosaic Award, and Coram Deo Award. These scholarships and awards total $9,500.
Additionally, Jenna was also awarded a $1,000 scholarship by SLAS for her academic and extracurricular excellence.
SLAS is extremely proud of Jenna for all of her hard work. We wish her the best of luck as she will soon be beginning a new chapter in her life as a college student. Everyone at SLAS wishes her the best of luck and know she will not fail to impress us all.
Shanghai Livingston American School
580 Ganxi Road, Changning District, Shanghai, China 200335
+86 (21) 5218-8575
+86 (21) 5218-0390