Thursday, November 24, 2016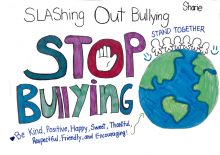 This year's Bullying Awareness Week was a success! The theme, "SLAShing Out Bullying", has made a good impact to the students. With the help of admin and staff, they were able to know the importance of this campaign showing kindness to others, standing up for themselves and their friends, and speaking out if they see bullying happening.
We started the week discussing information about bullying and giving out wristbands as a sign of showing support for the week's campaign.
Here are the highlights of each day with a message to remember:
Sweats Day!
"It is no sweat to be friends with someone"
Blue Day!
"Stand up for friends and others. We all have differences to respect"
Team Sports Day!
"Team up for supporting kindness and respect along with good sportsmanship throughout our school"
Black & Red Day!
"Black Out and Stop Bullying"
We closed out the week by doing a parade with our primary students walking through the hallways of the school. They were chanting, making noise on how do we stop bullying, and confidently showing their beautiful posters to our secondary students and teachers. Secondary students also showed their posters to the primary kids while standing up outside their rooms. We are so proud of these students showing their creativity, being compassionate with one another, being friendly, and feeling happy!
SLAShing Out Bullying Parade
Bullying Awareness Week: Winning Posters
Comments from staff & students:
"Don't bully. Bullying is not cool. If you see a bully, walk away! – Daichi Yamamoto, 1-A
"Anti Bullying Week was a great experience for students and staff. Everyone was actively participating. I hope that after this event, each one of us should be more aware of other people's emotions and behaviors. Kudos to Ms. Eliz and the Guidance Team." – Hazel Banares, Teacher Assistant
"Anti-bullying is equal is FRIENDSHIP" – Niall Lee, 8th Grade
"Stop bullying. No bullying. Be kind. Be friendly. – Victoria Marino & Poonam Sahoo, 2-A
"What a great bully awareness week! The parade was awesome! I think it really has helped the students." – Ms. Leslie Holm, ELA PY Teacher
"We have to stop bullying. Be friendly, thankful, kind, and sweet. – Zoe Wesolek , 1-A
"It was very good for the secondary students to encourage the younger grades to be more respectful and to be aware of the issues of bullying." – James Jack, Secondary Teacher
"I learned about not being bullies, respect others, and I will never bully others ever again. I will always be nice to other people." – Giorgia Matese, 1-B
"Anti-bullying week has provided a wonderful week for us to focus on social skills. It is evident in the conversations between students that they have internalized this information and are using it to be compassionate citizens. – Lauren Freedman, 1st Grade Teacher
"If a person is being bullied then we should say stop because it's not compassionate" – Zoey Chin, 1-A
"I strongly support this school-wide program for all staff and students. For me, what really counts is the equal relationship and friendliness between each of us." – Carrie Xia, Chinese Teacher
Shanghai Livingston American School
580 Ganxi Road, Changning District, Shanghai, China 200335
+86 (21) 5218-8575
+86 (21) 5218-0390