Monday, December 20, 2021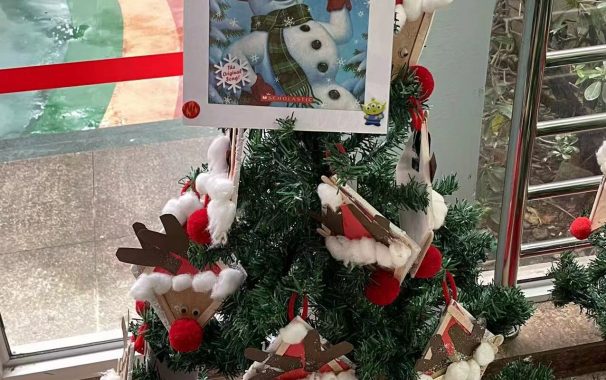 As the end of the year nears, we'd like to share a few Christmas themed activities as well as a tour of Egypt that our Wildcats proudly presents below:
Christmas Tree Decorations in Primary:
Every year as part of the SLAS Christmas tradition, each primary grade class is allotted one tree to decorate. From reindeers to Christmas trees, self portraits to dancers, snowflakes to stars, our Wildcats had a great time making their Christmas Tree ornaments! Some were completely handmade step by step, while some Wildcats used 3-D pens to print their own snowflakes! ACheck out the photos below to see the different trees!
Egypt Tour from our Grade 6 History Students!
On Thursday, December 16, Ms. Marlee's Grade 6 and PreAP Grade 6 Ancient History classes presented small-scale Ancient Egypt museums. For this unit of study, students delved into Project Based Learning. This student-led style of learning had the students working closely in groups to research Ancient Egypt while focusing on specific areas that interested them within the broader topic. The students' goal at the end of the Project Based Learning unit was to show and teach their newfound understanding and knowledge by preparing and presenting museums. Students used their creative thinking to display their information in several exhibits. Their museums included invention exhibits, Nile River displays, mummification demonstrations, a café based on food grown in Ancient Egypt, and many more smaller components. Students were then challenged to practice their communication and presentation skills by welcoming guest staff, teachers, and students to their museums. While exploring the museums, some guests were guided through the museums by Ancient Egyptian Gods/Goddesses, some were mummified, some were able to try on Ancient Egyptian wigs, and some were able to interact with displays made using technology. The students' confidence was obvious as you walked around the classroom and listened to explanations while interacting with the exhibits. The students enjoyed sharing their learning with others and did a fantastic job of simulating a real-life museum experience for their guests!
Stay tuned for more peeks into our Wildcat Classrooms!

Shanghai Livingston American School
580 Ganxi Road, Changning District, Shanghai, China 200335
+86 (21) 5218-8575
+86 (21) 5218-0390