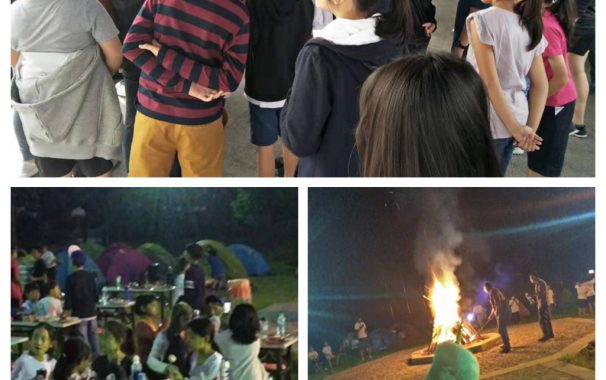 The 2019 Grade 5 camping trip was an adventure of a lifetime! The scenery was absolutely breathtaking, and the activities were enjoyed not just by the 5th graders, but also by us as teachers. Students were excited from the moment they found out about the excursion. On the day of the trip, students showed up to school with all of their camping essentials. Many of them had researched what they would need from YouTube videos and other online sources.
Once we got to Shanshan Island, many of the students were excited to begin our journey, while some were nervous because the island looked more like a city rather than a place for camping. On the first day we had lunch then headed to our activities. Half of the group set up tents for the evening, while the other half did the High Ropes activity.
"I really enjoyed the high ropes," said Mei from 5B.
"My friends down below said many things that helped me to be not scared, so I became very brave."
It was amazing to see students climbing to new heights, going higher than they ever thought possible. This mentality was evident throughout the trip, because the amount of confidence students felt seemed to double.
After the tent set up and high ropes activity, it was time for Dragon Boat Racing! Students were charged with the task of team work to make their boat sail the fastest. One student from each team was in charge of keeping the rhythm for their team mates to row. "When we were doing the DragonBoat racing, we won the race because we used teamwork!" exclaimed Drishti from 5A. Students seemed very excited to get on the boats with their friends. All of them put in their best effort, by paddling their hardest until the end. The amount of communication needed to win was recognized early on in the race. Students were voicing instructions about paddling in unison. For the rest of the day, students couldn't stop talking about that experience. It was absolutely one of the highlights of the trip.
That night the students enjoyed a BBQ dinner, glow in the dark painting, and marshmallow roasting!
"The Bon fire was very big and hot!"said Julie from 5B, "I had a lot of fun".
When it was time to turn in for the night, many students were too excited to sleep. The next morning we enjoyed breakfast and the next day's activities of hiking and farming. This trip wasn't just about teamwork and bravery: It was about becoming a family. Uniting with peers, recognizing that seemingly impossible tasks can be achieved with the combined effort and compassion for everyone in the group, and finding creative solutions to everyday problems should be the ultimate solution to our biggest obstacles.
Shanghai Livingston American School
580 Ganxi Road, Changning District, Shanghai, China 200335
+86 (21) 5218-8575
+86 (21) 5218-0390