Monday, September 7, 2015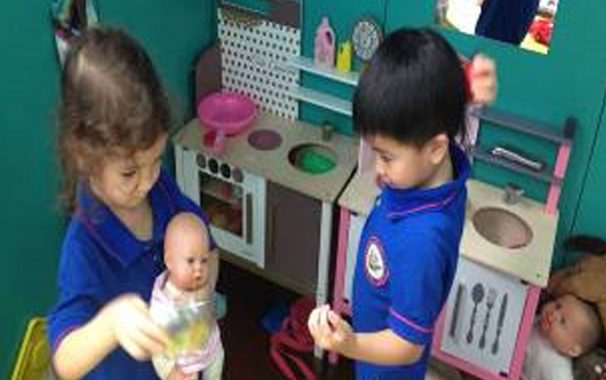 It's been another busy week in Preschool A as we wrap up our Welcome to School and All About Me activities.  The children have begun to sing and share their ideas and experiences in classroom activities.  While there are still a few tears as we say goodbye each morning, everyone is participating in class activities.  We love singing and our favorite song this week is My Head and My Shoulders, especially when it gets faster and faster and faster!  The addition of a shopping cart, doll bed, and mirrors, as well as lots of talk about home and family during our classroom activities, also made the Home Center a favorite learning area this week.   We are beginning to observe cooperative play between children in the classroom.  Social and emotional development is a key focus for three- and four-year-olds, and our classroom activities are structures to facilitate growth and learning in this area during class each day.  Swimming on Friday morning and preparing for the school Fire Drill were also highlights of the week.
Buckle up for an exciting month ahead! Our new theme, Transportation, begins Monday.
Shanghai Livingston American School
580 Ganxi Road, Changning District, Shanghai, China 200335
+86 (21) 5218-8575
+86 (21) 5218-0390