Design brief – To design and create a mural for the garden wall. Students needed to use acrylic paint and pencil. The mural must incorporate the theme earth day and have and international twist. After initial discussions and designs originating in middle school art class, we decided on the ambitious idea of painting a flower from each country in the world.  Creating a grid of 11×19 squares on the garden wall, we planned to paint 1 flower per square, leaving some squares for our logo "flowers of the world". We then set about dividing the countries between us and researching a flower for each country in the world, 196 in total.
We began on earth day week, and collaborated with lots of different classes to get the job done. Science and Art classes, plus G5 contributed with a flower per student, and we were well on our way!
Finally we finished on 05.20.16, and as we hope you'll see, the time and effort we put in has really paid off!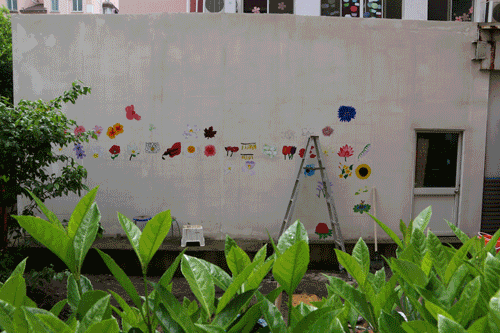 Thanks to everyone that helped! A special mention to Ms. Lisanne and the High school art class who painted some beautiful flowers! Congratulations to all involved, this project was worked on by over 100 students and staff all of whom worked as a community of artists and did a fantastic job.
Please take a look when you have time, which is your favorite? Can you recognize a flower from a country you know?!
What did we learn?
A broad ranging activity, students developed a wide range of skills, including sketching, ghosting, observational drawing, color theory, acrylic paint technique, thick and thin line, shading and tone, contrasting and complimentary color and collaboration.
Shanghai Livingston American School
580 Ganxi Road, Changning District, Shanghai, China 200335
+86 (21) 5218-8575
+86 (21) 5218-0390