Wildcats Athletics
Athletics 09.20.17
On Monday, the girls played against SAS and lost. The score was 10:25 and 21:25. Although the girls played against a more experienced team, the girls tried their best and through the game showed how much they improved. Hopefully the girls will win the next game.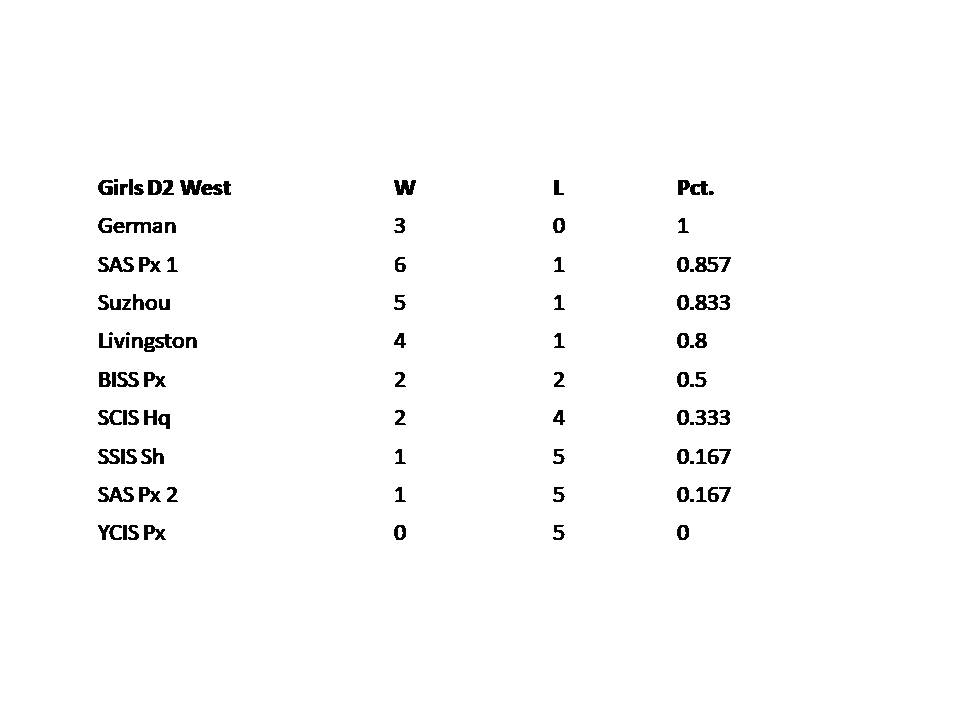 Athletics 08/28
Volleyball schedule is out now:
Girls
09.06.17 SASPX 2
09.13.17 YCIS GB
09.25.17 SASPX 1
10.09.17 DSS
10.10.17 BISS PX
10.12.17 SSIS SZ
CRE 10.14.17
Boys
09.05.17 SCIS HQ
09.14.17 SAS PX
09.27.17 YCIS GB
10.10.17 BISS PX
10.12.17 SSIS SZ
CRE 10.14.17
Make sure you get to practice afterschool next week ready for all our fixtures!
Athletics 04.28.17
Basketball
On Tuesday the MS girls continue their stunning unbeaten record with wins away at BISS PX. MS boys beat YCIS on thursday to add another win to their season. Congratulations in particular this week to our younger players (from G4 &G5) who although playing against much taller opposition, still managed to have a great impact on the games they played, our coaches are extremely proud of our future Wildcat stars!
Tennis
Next week sign ups will go up for MS tennis, those interested please put your name down. Pratices to begin very soon!
Track & Field
Our MS Track team will travel to wellington on the 6th May to compete in their CRE, wish them luck!
Go Wildcats
Athletics 04.21.17
Track and Field
Athletics team travelled to LFS on monday to compete in their first MS event with great success! Winning Jnr boys relay, 3rd in senior boys relay and 2nd and 3rd in 400m.
MS Basketball
MS girls travelled to SASpx on tuesday and won both their games to go 4-0 this season!! MS Boys won also at SCIS hq winning both games against 2 SCIS teams
HS Soccer Congratulations to the SLAS Wildcats Soccer Team!
2017 SISAC Division 2 SOCCER CHAMPIONS!!!
On Saturday, April 15th, our SLAS Wildcats team travelled to Wellington's Pudong campus to compete in the SISAC (Shanghai International Schools Activities Conference) Championship Tournament.
After a 4-0 win over Shanghai Community International School (SCIS) and a 6-1 victory against Yew Chung (YCIS), our boys clinched their first Championship title with a 5-1 triumph over British International School (BISS).
Congratulations to our amazing, hardworking team and their coach, Mr. Alex Brown!
Shawn Lupori (G11)
Taro Ikeda (G11)
Tsubasa Kazari (G11)
Bobby Harris (G12)
Aiden Lupori (G10)
Dusan Marinkovic (G9)
Ayumu Takemuto (G8)
Min young Kim (G8)
Justin Joo (G7)
Takuro Kiota (G11)
Anton Ponomarenko (G10)
Takao Ido (G8)
"This is SLAS's most successful soccer team ever! They can be very proud of this season. We worked very hard to win this division and it promotes us to play against the best teams in Shanghai next year. Given the size of our school, it's a great achievement and we're looking forward to next year's challenge!" – Alex Brown, Athletics Director

Athletics 04.14.17

The MS Boys and Girls basketball teams were in action this week against SCIS and SASPX. We won both games at both events on tuesday and thursday!
HS Soccer Boys won there last game of the season against SCIS HQ 10-0, making them Division Champions! Congratulations to the boys for a fantastic season. We go to the Cross River Champions Cup on saturday with high hopes. Scorers were Dusan (4) Justin (2) Tsubasa (2) Taro (1) and MinYoung (1).
Hs soccer had two games this week, winning both and going one step closer to the league title! On Tuesday we played a hard game against YCIS winning 3-2 goals from Tsubasa, Taro and Dusan. We then travelled to to Suzhou on Thursday and managed to win 5-0! Our biggest win so far! Goals from Dusan, Tsubasa, Anton and Min Young.
We have one game left in the league in April, if we win it we're league champions!
HS Soccer played a practice game this week at Wellington although we lost 8-5, we played well and came away well prepared for our first league game next week at BISS PX.
Go wildcats!
HS SOCCER SEASON
Below is our HS BOYS Soccer season, training continues every week, Mondays and Fridays!
02.27 vs WCS leaving 2.45pm
03.02 vs DCS leaving 2.45pm
03.08 vs BISS PX leaving 3.00pm
03.16 vs SCIS HQ leaving 3.00pm
03.28 vs YCIS HQ leaving 3.00pm
03.30 vs SSIS SZ leaving 2.00pm
HS BOYS SOCCER
Soccer begins next term – please come to training on mondays and fridays, our first game will be late feb against WCS!
GIRLS AND BOYS HS BASKETBALL SEASONS
thanks to coaches Jamal, Kosaka, Rodney and Erman for their great effort during the season! bad luck to the teams on their final competition at SSISSZ, we were knocked out by very strong pudong teams and learned a lot for next year!
congrats to the girls for their conference regular season win!
GIRLS WIN SISAC D2 WEST CONFERENCE!!!!!
12.09.16 Athletics
Both girls and boys travelled to Suzhou for the last of the regular season games on thursday. The girls needing a win to secure a conference win and the boys knowing a win would get them 2nd place. As usual this season, BOTH TEAMS WON! congratulations to all the girls and of course our brilliant coaches Jamal, Kosaka, Rodney and Erman.
Girls 28-14
Boys 36-32
Athletics 11.24
HS Basketball
The boys and girls travelled to SASPX for two tough games on tuesday. Girls Managed to pull off a good win 38-27 and continue there good form going into next week with a hard game against BISS px (28th). The boys lost 50-31 taking them to a 2-1 record, with still 3 games to go (28th, 5th & 8th), with a possible friendly in January (TBC).
MS Soccer
A fabulous end to an indifferent season for the boys at the C1 MS soccer tournament. We won 4 out of 5 games at the tournament scoring lots of goals and conceding very few. The one game we lost was to a very stong NAIS PD team, and came very close 3-1. Special mention to our goal scorers on the day (Justin, 7) (Takao, 8) (Ayumu, 7) (Nikolay, 2) (Min Young, 1). Another good Soccer season at SLAS, we now move onto HS soccer starting in January.
HS Basketball 11.18
Both Boys and Girls teams recorded wins against YCIS!! 38 – 8 & 32 – 22 Great work by both teams and congratulations to our brilliant coaches!! Lots of games coming up, please show your support!
22th NOV SASPX @SASPX
28th NOV BISS @BISS
5th DEC SCIS HQ @SCISHQ
8th DEC SSIS SZ @SSISSZ
MS Boys soccer 11.19
The boys travelled to Suzhou on thursday to play against Dulwich, and unfortunatly were beaten. On saturday we play our tournament at DCS and we have great hopes for this weekend with some star players back in action!
Go wildcats!
HS Basketball 11.04
Both teams travelled to BISS PX on wednesday for a freindly, looking great in their new uniforms!!
Both games were tough and although both ended in defeat, good lessons were learnt! We are now ready for our first home game against JICD on wednesday (girls).
MS Soccer 11.03
Bad luck to the MS boys as they travelled to SCIS and were beaten 8-2. We played a very strong side in SCIS HQ, but the boys kept their heads up and scored 2 great goals!!
Go W